In the "Centre Uzima - Life Centre" in Kolwezi, in the south of Congo, the Salvatorian Sisters accompany pregnant women as well as mothers and their infants. With counselling the aim is to provide the best possible health care. The pregnant women are thoroughly observed, informed and prepared for childbirth.
The physical development of infants and young children up to the age of 6 is also regularly checked. Twice a week between 25 and 50 mothers come with their babies to be vaccinated or weighed. In case of illness, mothers and children receive the necessary medication at the Centre Uzima. The desperate economic situation, the lack of work and income and the poverty that goes with, it is the cause of many diseases, such as malnutrition.
Sr. Alphonsine, a Salvatorian sister in Uzima, reports: "When Bukamu, a little boy, was six months old, his mother died of tuberculosis because she lacked the means for adequate treatment. The father is unemployed and had neither the necessary money nor knew how to take care of the child. Neighbours sent the father and child who was showing visible signs of malnutrition to our centre Uzima . In the meantime, Bukamu has recovered and the father now receives the necessary food and is able to feed Bukamu who is now 15 months old and weighs 5 Kg. You can see his positive physical development. We are sure that with God's help and with the help of many other people, he will be able to become a completely healthy child."
Every day up to 40 mothers, grandmothers and older brothers and sisters bring the malnourished babies to the centre. They prepare together milk and a rich porridge of soya.
Given the high number of children who have health care needs, it is a permanent challenge to raise the necessary money for food. Some can contribute a few cents, but the majority are unable to do that.
Uzima Centre offers women concrete help and strengthens their own initiative.
The beneficiaries are more or less 8.000 children annually as well as their mothers and families.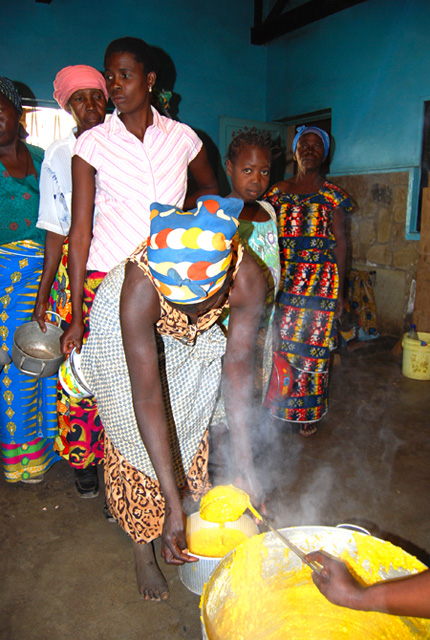 In the centre are needed about 680,00 euros per month, i.e. 8.200,00 euros per year to cover the costs.
Therefore we are looking for permanent partners!