For more than 15 years the Salvatorian sisters in Jordan have been committed to migrant workers from Asia. Especially for women from Sri Lanka, the Philippines and occasionally Bangladesh. Although the number of women who come to Jordan as domestic or factory workers has not increased further in recent years, many women still need support.
Because of difficult circumstances women who lose their jobs or give up, become ill and very poor or loose their legal status is still very high in number.
Many of the situations we have to deal with today are complex and more costly than ten years ago. They demand intensive advice and support on the spot, for example, in the slums, emergency houses and prisons.
There are now new problems and groups of people. We are increasingly encountering women who no longer work in households and factories but earn their living through prostitution. Even if no structural offers are possible, we try to provide these women with personal and small material help, in particularly severe cases.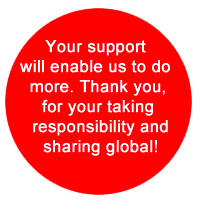 The same applies to refugees from Syria. A large number have been living in Jordan since the outbreak of the civil war in Syria. Working with the local Caritas we try to offer aid for all by providing support, establishing contacts, counselling and practical help. About 100 women and their children are beneficiaries of the project.
Around 4.300 euros annually is necessary
to cover all costs.