The Salvatorian Pastoral Care for Children (SPCC) was founded in the year 2001. Since then, volunteers from the Diocese of Novaliches have been formed and now empowered to become Child Rights Advocates (CRAs) - Lay Leaders. These leaders are considered the 'eyes' and 'ears' in their local communities.
SPCC is an organization working for and on behalf of children who are abused and marginalized and offers a special program called the 'Book Reading Program'.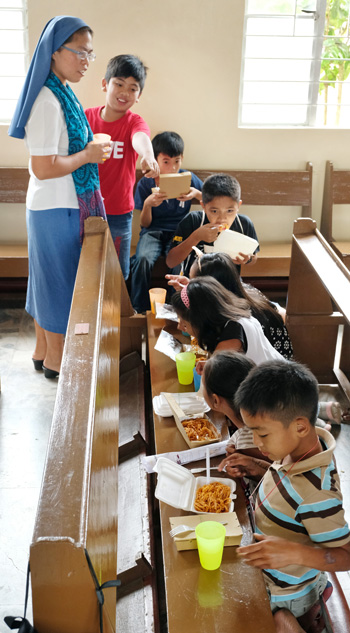 This program has the following objectives, allowing children to find joy in reading, influencing their overall attitude towards education as well as developing their psycho-spiritual growth according to the spirituality of the Salvatorian Sisters. In the program implementation, there is the inclusion of an activity called 'Come, let us read and be happy' where children receive the opportunity to read their favourite books by themselves.
Through the Book Reading Program, the moral and spiritual development of the child is given prime importance. In an attempt to bring this program to more children and different places, the 'Mobile Book Reading Program' is conceptualized.
In Manila City beneficiaries are children of informal settlers of Damayang Lagi and Barangay Valencia. In Cebu City children of the poor urban areas are beneficiaries.
6.450 euro for one year, including books, personal costs, lessons and so on.